Hello 🙂 Today I have another totally amazing Indie brand to share with you all. First off let me say that all indie makers usually are very awesome with their customers however some just go so above and beyond. Heather From HeathersHues on Etsy is so amazing. I swear she never rests she is always about her customers, her Facebook group, kids, family and creating amazing polish that is 5-free and tphp-free. She is so prompt and I have had a great experience with shopping with her, No I do not get any commission or free items for my review. This is just my honest views on HeathersHues. So please head over and check her out. Heather has around 70 colors available right now. She has specials frequently and a monthly Mani box that includes 2 full sized polishes one from Heather's Hues and one from Northern start polishes.Here is a peak at one of the recent months box…look at all those goodies and it is 29.95.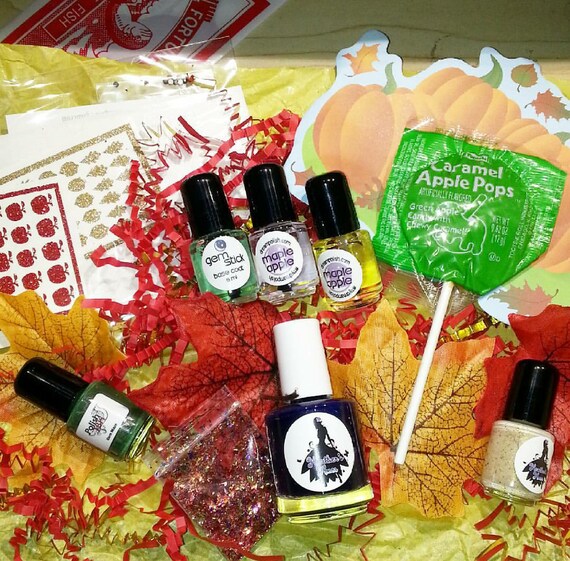 Now, I ordered 5 polishes from Heather. Top that which is a 5-free top coat that in my opinion does dry quick, I was so happy with this. It will not smear most nail art. Great for shiny, long lasting manicures. 1st base, is her 5-free base coat that she made with the perfect mix of being a smoothing and sticky base coat.This base coat also dries quick . Both of these have easy application and I love the brushes, they work well for me. Use both as I did to get a great looking manicure. Yes these may look cloudy however they both apply totally clear I promise you. 
I also orders 3 mini bottles of colors. Passion which is a nice red polish with a beautiful look of mico flakes and holo. A absolute beautiful red. Which is part of her "warms" set.  Creativity is a beautiful blue that is catchy and caught my eye. It also has micro-flakes and holo. This is from her "cools" set. A must have for any blue nail polish lover. Comfy Flannel ahh we know I love greens 🙂 this is so amazing, the color in the bottle does not do it justice. This green emerald also has shimmer with holo and micro-flakes.  These apply great with 2 coats for fully opaque and stunning color. 
Here is my Mani using Comfy Flannel ( don't you just love the name) I do, I used 1st base and 2 coats of Comfy Flannel then topped it off with Top That. All of these had great dry time, I did not have to deal with it being hard to evenly apply or wait forever to dry. I tested using a toothpick to see if it would have a nick in it. NOPE, totally dried 🙂 in quick time. 
I look forward to using the other 2 colors for my full Mani soon, and of course ordering more ♥ I almost did a alternating Mani using all three to show you just how gorgeous they all look out of the bottle but I decided to just use one at a time for last night. 
I Hope you love the look as much as I do. You can find Heather at the follow links. 
Thank you so much for reading 
Happy Holidays xoxo